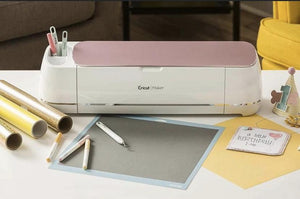 The Craft Hut SCS
Cricut 101 9/23 2:00PM
Regular price
$60.00
$0.00
Welcome to the Cricut community! We will introduce you to your new Cricut machine and show you what tools you will need to get started. You will need a design space account which is free to register, just go to Cricut.com and click on design to download. We will go over the basics in Design space you will need to get started. This 101 will be more about the software used for Cricut rather than the machine. If you don't have a Cricut yet don't worry we have 2 on site you can try out before going out and buying one! The goal of the class is to learn the basics of Design space and make a project together! Register early as spots fill up quick! 
Materials Needed: Laptop or Tablet to access Design Space, Notebook and Pen
Due to limited space we do not refund for classes with less than a 48 hour notice.