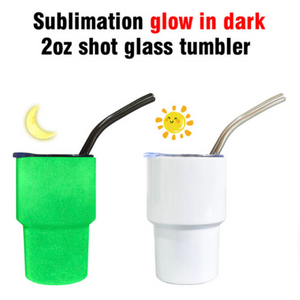 The Craft Hut SCS
Glow In The Dark 2 OZ Mini Tumbler
Regular price
$6.99
$0.00
Holds 2-3 oz of your favorite drink; this fun, cute and compact shot glass includes a lid and metal straw so you can enjoy your drink without spills.
These are specially coated for sublimation but can also be decorated with vinyl or UV DTF prints as well. We recomend testing your heat press settings to see what works right for you. Typically 2-3 minutes at 385F in an oven works for us but might be different for you.
2-3 oz, Sublimation Stainless Steel Shot Glass Tumbler - Sublimation Stainless Steel Insulated Cup 
Includes:
-One Shot Glass Tumbler
-Lid
-Stainless Steel Straw
-Box
Please Note: We always recommend testing your settings as every press and oven can vary in temperature and time.
By purchasing an item for sublimation you are acknowledging and agreeing:

The Craft Hut is not responsible for any technical issues related to the sublimation process such as using the wrong settings, equipment, ink, not wrapping the image tightly, etc.
---
More from this collection